Complete Story

10/22/2022
Information about Appalachian Community Grant Program now available
On October 20, the DeWine-Husted Administration released guidelines for the Appalachian Community Grant Program. The program provides $500 million for transformative projects within the Appalachian region. Program documents, including a schedule and a project scoring rubric, are available on the Ohio Department of Development website:
https://development.ohio.gov/community/governors-office-of-appalachia/appalachian-community-grant-program
Please be advised that ODOD will host a webinar about the program on Tuesday, October 25, 1:00 – 2:00 PM. Click here for free registration.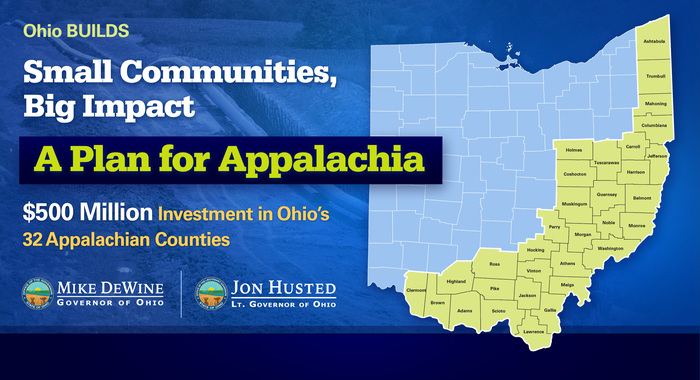 The Round One program application will open on November 2 and close December 9. Both planning and implementation grants will be available. Planning grants are limited to $250,000 per county.
Round 1: Up to $50 million will be available in the first round for eligible regional projects that have partners in place and can begin implementation within 90 days of receipt of funds.
There is no cap on Appalachian Development Grants, but program activities must total at least $1 million or more to be eligible for consideration.
Awarded Appalachian Development Grant projects must be complete by October 31, 2026.
Appalachian plans and implementation projects must include components from three funding priorities:
Infrastructure; such as main street or downtown redevelopment, improvements to multi-community connecting trails, significant outdoor community space, links to community arts, history and culture, access to telemedicine.
Workforce; such as public-private partnerships designed to build and coordinate technical, educational, clinical and workforce infrastructure.
Healthcare; such as investments in school or community-based services to address children's physical and behavioral health needs or plans to address substance use disorder.
CCAO will share more information as it becomes available. If you have any questions about what is currently available, please contact Senior Policy Analyst Jon Honeck at 614-220-7982 or jhoneck@ccao.org.
---